19
Jan
SOPA, Would It Limit Freedom On The Web?
The Stop Online Piracy Act is designed to stop Internet piracy but has critics concerned it will limit freedom on the Web. Wikipedia, Google, Reddit and thousands of other websites went "dark" on Wednesday January 18, to protest the SOPA (Stop Online Privacy Act) and it looks like it succeeded to get legislator's attention.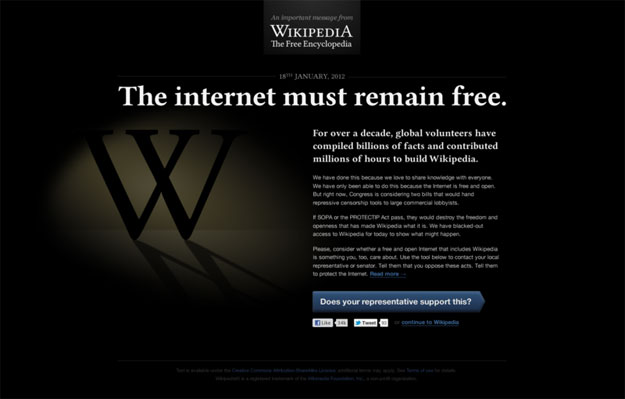 U.S. Rep Rush Holt tweeted on Twitter yesterday:
#SOPA would make the internet less secure, less competitive, and — worst of all — less free. It will not have my vote,"
U.S. Rep Timothy Holden withdrew his co-sponsorship of the bill.
"An open Internet requires that we find a better approach that is acceptable to all sides,"
U.S. Rep Charlie Dent said in a news release
"steps must be taken to prevent the illegal distribution of intellectual property" but that "SOPA — as introduced — is not the proper approach to addressing the growing problem."
Find out more about SOPA and what you can do to stop it: Wikipedia SOPA