29
Dec
New Years Quotes
Happy New Year, we are looking forward to 2012!
Here is a list of quotes and messages to Tweet, Update and Blog about for New Year's Celebrations.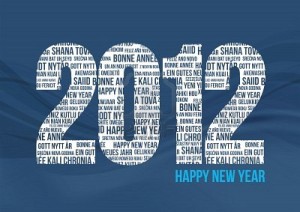 MESSAGES:
Season's greetings and best wishes for a new year that fills your heart with joy. Happy New Year!
Wishing that you are blessed with all that you desire in the year ahead. Happy New Year!
May the New Year bring you happiness, peace, and prosperity. Wishing you a joyous new year!
May the good things in life be yours in the coming year and always. Best wishes for a happy new year!
May you celebrate and enjoy the simple pleasures of life in the coming year. Happy New Year!
May the gift of love, happiness, peace, and warmth be yours as you make a new start. Happy New Year!
Wishing you hope, comfort, peace, and happiness on this New Year and always!
Quotes:
An optimist stays up until midnight to see the new year in.  A pessimist stays up to make sure the old year leaves.  ~Bill Vaughan
Many people look forward to the new year for a new start on old habits.  ~Author Unknown
A New Year's resolution is something that goes in one year and out the other.  ~Author Unknown
Be always at war with your vices, at peace with your neighbors, and let each new year find you a better man.  ~Benjamin Franklin
Year's end is neither an end nor a beginning but a going on, with all the wisdom that experience can instill in us.  ~Hal Borland
Cheers to a new year and another chance for us to get it right.  ~Oprah Winfrey
New Year's Day:  Now is the accepted time to make your regular annual good resolutions.  Next week you can begin paving hell with them as usual.  ~Mark Twain
We will open the book.  Its pages are blank.  We are going to put words on them ourselves.  The book is called Opportunity and its first chapter is New Year's Day.  ~Edith Lovejoy Pierce
Good resolutions are simply checks that men draw on a bank where they have no account.  ~Oscar Wilde
It wouldn't be New Year's if I didn't have regrets.  ~William Thomas
May all your troubles last as long as your New Year's resolutions.  ~Joey Adams
HAPPY NEW YEAR FROM GLOBAL ASSIST, SOCIAL MEDIA MARKETING ASSISTANTS.  TAKE A LOOK AT OUR SOCIAL MEDIA MARKETING PACKAGES AND GET 2012 STARTED WITH A BANG!